Arbor 1 Tree Service – Central Oregon Certified Arborists
Back in the day, we used to be called "tree surgeons", but today, we like to think of ourselves more like "tree physical therapists". But really, we are Certified Arborists, properly trained to take care of trees.
An arborist, by definition, is an individual who is trained in the art and science of planting, caring for and maintaining individual trees. Certified Arborists are individuals who have achieved a level of knowledge in that art and science of tree care through experience and by passing comprehensive examinations developed by the International Society of Arboriculture.
So what does it mean to be a Certified Arborist? It means that we have met all requirements to be eligible for the exam—which includes three or more years of full-time, eligible, practical work experience in arboriculture and/or a degree in the field of arboriculture, horticulture, landscape architecture or forestry from a regionally accredited educational institute.
The ISA exam covers not just tree trimming, but includes the following areas: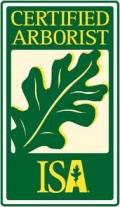 Soil Management
Tree identification and selection
Tree installation and establishment
Safe work practices
Tree biology
Pruning
Diagnosis and treatment of pests and diseases
Urban forestry
Tree protection
Tree risk management
You can see that we take a holistic approach to tree care. We are also learning new things all the time and strive to stay educated and updated in the most current tree issues, tree care methods and safety. Simply put, if we don't know the answers to your questions right away, we'll do our research and get back to you!
Besides being ISA Certified, we are also knowledgeable about local codes and ordinances with regards to trees and required permitting processes necessary to maintain a healthy urban forest. We are licensed, bonded and insured.
If you are wondering why this all matters, keep this in mind:
Unskilled, non-certified tree-workers can do an extraordinary amount of long-term damage in a very short period of time. It pays in the long run to hire educated, Certified Arborists for your tree work.
Call or email us today!
–Mike D., 541-480-4223