Our Tree Care Services
We offer a variety of tree care services to help you,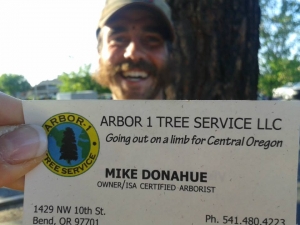 the property owner, as well as the community. Our tree care services are tailored to your needs and we spend the time to listen carefully and assess your situation before taking action. We are knowledgeable about the many aspects of trees – from pesky pests to soil and water needs. We are passionate about our urban forest, so our goal is to help you help your trees!
Good tree trimming and pruning involves some basic but overlooked techniques that only a Certified Arborist is trained to do. It is very important that trees are trimmed properly, rather than just randomly hacked up. We offer flexible rates depending on what your goals are and every tree and customer differs from the next, so we strive to meet individual needs with flexibility.
Although a choice of last resort, tree removals are a necessity of every urban forest and a removal only comes after considerate planning and balanced thought. We remove trees in a safe manner while respecting the surrounding property. Big jobs require the use of a crane for quicker and safer tree removal.
We can help you preserve trees on your property. We are knowledgeable in local pests and diseases and can help you explore options for tree preservation methods. We can also advise when you are planting trees on your property.
Don't trip over that stump! We can remove it and make it disappear. Yep, we grind stumps. Grind 'em real good too! So if you are looking to remove a tree or have a pesky old stump in your yard that you've been tripping over, give us a call for stump grinding.
Wildfire is a real threat in Central Oregon and we strive to help property owners maintain a safe space around your home or building. We can help you maintain a defensible space around your home to protect your home and property through wildfire fuels reduction. Mike is an "Accredited Fire Fuels Assessor" with first hand wildfire experience and a wildfire fuels reduction expert.